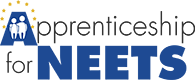 In Europe the so-called NEETs (Not in
 Education, Employment or Training) are considered as one of the most problematic groups in the context of youth unemployment. Thus, according to Eurostat, in 2011, 7,5 million people aged between 15-24 years and 6,5 million people aged between 25 and 29 years were excluded from the labor market and education system in Europe.
In recent years, several European initiatives have emerged to act effectively and sustainably on this issue. Our project falls within the European priorities in terms of employment and inclusion of young people and NEETs. It aims to provide innovative learning tools for NEETs in order to facilitate their professional integration and employment.
In the framework of the project, strengthening the links between education and professional world, as well as creating of strong partnerships synergies at local and European level are planned. Specifically, the project aims to create a consortium of business partners and training structures to support young people, who have left school, back into learning. The objective is to create new partnership synergies between these different worlds in three sectors: hospitality, metallurgy and new technologies.
In order to foster links, this project will adapt the needs of businesses to training identified and promoted in the partnership.
Hence, both the process of integration, learning and follow-up of the beneficiaries will be based on real companies' needs and experiences which allows to ensure the emergence of innovative professional actions and employability  of NEETs.
Each partner engaged in the project has relevant experience and expertise in learning methods, as well as network of companies, NGO and local authorities in corresponding countries (France, Belgium, Ireland, Spain). This will facilitate project implementation and strengthen its impact.